Medical Waste Disposal For Nursing Homes
Sanpro guarantees savings of up to 30% or more on Medical Waste Disposal for Nursing Homes.
We have zero hidden fees or surcharges.
GET A QUOTE TODAY TO FIND HOW MUCH YOU CAN SAVE!
Save on Medical Waste Disposals & Pickup with Sanpro
Sanpro provides great rates for medical waste disposal throughout the US. Flexible pickup options, container options and upfront pricing means better service while making your dollar go further.
Share your current medical waste service bill with Sanpro and our team of waste management specialists will work to beat your current rate. It's what we do. Give us a call, email or fill out a quick quote form.
Nursing Home Medical Waste Disposal
In addition to waste from actual medical care, a nursing home creates plenty of soiled pieces that need to be properly disposed of. You can't just include items that are soiled or soaked with blood or urine in your regular trash; it poses a significant health risk to others. You can be sure your facility remains compliant with all regulations and that you are acting responsibly by creating a comprehensive plan for your medical waste.
Whether you have a single facility or multiple locations, Sanpro can help mitigate your risk by ensuring you are in full compliance with a shifting and evolving set of regulations and that you can do so in an affordable way. When your medical waste needs are handled, you're freed up to do what you do best, caring for and improving the lives of your residents.
How We Process Medical Waste Disposals For Nurseries
According to the most recent census, over 70 million Americans will be 65 or older by the year 2030; this staggering number has led to an increase in the number of nursing home and care facilities and an increased interest in the way these facilities are disposing of medical and non-medical biological waste. An eldercare or nursing facility already has to comply with Federal regulations outlined by OSHA and the EPA; many states now impose rigorous guidelines as well, since nursing homes are seen as healthcare providers. Medical waste can be defined as any material containing bodily fluids or blood, along with the typical medical supplies and sharps used in a healthcare setting.
The increased demand and scrutiny means that your facility has a lot of regulations to comply with and that you have to deal with those products in a way that keeps your staff, your residents and your visitors safe. Your facility may generate some or all the following hazardous waste products, which require specific disposal methods:
Medical treatment waste, including gloves, masks and robes
Solid waste, including any item contaminated with bodily fluids or material
Liquid waste, including blood and bodily fluids
Sharps waste, including needles, scalpels, syringes, slides or broken tubes and ampules
Drugs and chemical solutions
Disinfectants
Miscellaneous medical or hazardous waste not otherwise specified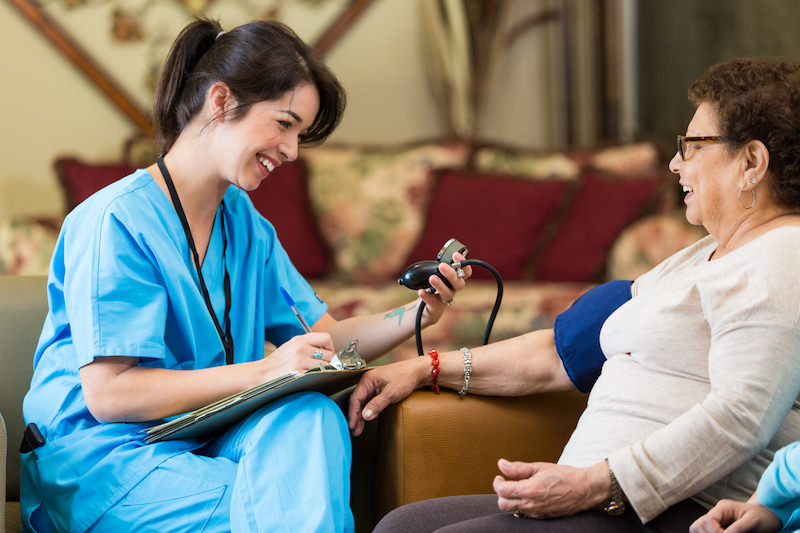 Medical Waste Disposal Compliance for Nursing Home Facilities
Since your facility generates both hazardous byproducts and medical waste, you must fully comply with rules created by the  Environmental Protection Agency (EPA), OSHA, Department of Transportation (DOT) and Joint Commission (TJC) when it comes to disposal. Failing to do so is costly – from the fees and fines imposed by these groups to the bad publicity that can result if you are found to be improperly handling waste at your facility.
Sanpro clients enjoy the peace of mind that comes from knowing their medical waste needs are fully covered and that they are always compliant. We understand that you need to be able to manage onerous Federal, state and even local rules and keep track of the latest changes and revisions to waste disposal policy and regulation. Our affordable, scalable solutions give you the freedom to focus on your business and the peace of mind that comes from knowing your needs are fully met.
Customized Medical Waste Disposal Service for the Nursing Home Industry
Our comprehensive, all in one solutions are fully scalable, so you can use just what you need now, but easily grow in the future. With a rapidly expanding industry, you need solutions that can grow as you do. Our clients enjoy not only our innovative containers and systems for collection, but regular visits from trained professional medical waste technicians who remove, transport and dispose of the waste, worry free.
We also know how important safety is for your residents and your team. Our innovative approach to employee awareness and training ensures that your entire team is compliant and fully understands the medical waste process, leaving you free to do what you do best – focus on your residents and their care.
Affordability and reliability are the hallmarks of the Sanpro experience; our goal is to make waste disposal something you never have to worry about. From the start, we provide everything you need to easily comply with regulations, including innovative collection bins and your own dedicated technician. We're dedicated to not only meeting your needs, but making our service affordable as well
Make your Elder Care Facility Safe with Sanpro
From you residents to your visitors and staff, proper disposal of medical waste makes your facility safe for everyone. Fully complying with OSHA, EPA and DOT regulations gives you unsurpassed peace of mind and the freedom to focus on growing your business and providing the best possible care for your residents and their families.
Get Affordable, Reliable Nursing Home Waste Disposal
You're just a click away from peace of mind and unsurpassed convenience. Our scalable and affordable solutions can be fully customized to perfectly match your needs today and in the future.   Contact us today to get peace of mind about your nursing home medical waste disposal and to begin focusing your energy where it belongs – on your residents and your business.