Medical Waste Disposal For Pharmacies
Sanpro guarantees savings of up to 30% or more on Medical Waste Disposal for Pharmacies.
We have zero hidden fees or surcharges.
GET A QUOTE TODAY TO FIND HOW MUCH YOU CAN SAVE!
Save on Medical Waste Disposals & Pickup with Sanpro
Sanpro provides great rates for medical waste disposal throughout the US. Flexible pickup options, container options and upfront pricing means better service while making your dollar go further.
Share your current medical waste service bill with Sanpro and our team of waste management specialists will work to beat your current rate. It's what we do. Give us a call, email or fill out a quick quote form.
Pharmaceutical Hazardous Waste Disposal
If you handle pharmaceuticals that are considered hazardous, you need to handle, store and dispose of these products following strict guidelines. Hazardous pharmaceuticals are defined in the EPA Conservation and Recovery Act and include a variety of medications, including:
Those specially named in the RCRA (there are more than 400 named medications)
Ignitable medications that catch fire easily when exposed to heat. Corrosive medications or matter that could damage individuals or property. Medications that react with air or water, unstable substances and those that are under pressure and could explode. Medications or ingredients that could be fatal or cause harm when ingested
Consumer Expired Medication and Sharps Disposal
Under the Secure and Responsible Drug Disposal Act, consumers can return expired or unused schedule II, III or IV medications to the pharmacy for disposal. Non-controlled medications and sharps can be returned as well; once these items are in your hands, you're responsible for them. You'll need to dispose of these items in addition to any you generate on your own.
How We Process Medical Waste Disposals For Pharmacies
Like most businesses that serve the healthcare needs of consumers, pharmacies generate both medical and hazardous waste. From immunization sharps to testing materials and even expired products, you need a convenient, affordable and reliable way to dispose of these items and remain in compliance with all regulations as well. When you're running a pharmacy, you must not only comply with a robust group of regulations surrounding the preparation, handling and distribution of medication but with the regulations regarding medical waste as well. It is easy to get overwhelmed, but failure to comply with disposal guidelines can be a costly error.  From fines and fees to professional sanctions to the negative impact failure to comply can have on your brand, the risk of non-compliance is just too high to ignore.
Sharps used for testing and vaccinations
Hazardous pharmaceuticals
Consumer medications and sharps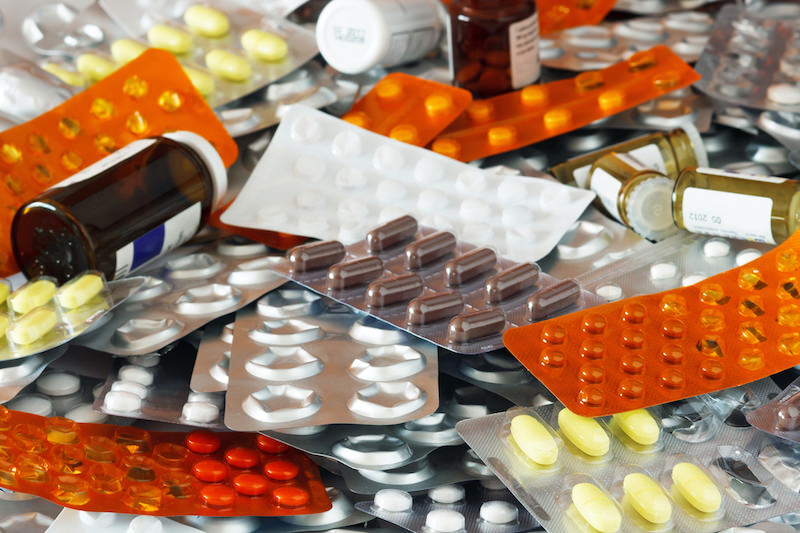 Pharmacy Medical Waste Disposal
If you offer any ancillary services, from vaccines to urgent care or lab testing, you generate medical waste. Simply by preparing and dispensing medication, you also create hazardous and medical waste products, so you must fully comply with rules created by the  Environmental Protection Agency (EPA), Department of Transportation (DOT) and Joint Commission (TJC) when it comes to disposal.
At Sanpro, we understand that you face stringent regulation and increasing amounts of scrutiny from many agencies and have prepared an extensive lineup of waste disposal services designed to meet your unique needs.
Pharmacy Medical Waste Disposal Service Customized Just for You
No matter how much regulated waste you generate, we can help create a comprehensive and cost-effective solution for your pharmacy. By offering scalable solutions that directly address your unique needs, you can be sure you only pay for services you need and use – and get the peace of mind that comes from knowing you are fully compliant.
Sanpro clients enjoy easy, one-step disposal of all hazardous items. From our innovative collections bins to our trained technicians, you'll have everything you need to remain compliant and run your business with confidence. We'll provide the supplies you need to safely sort and store your hazardous materials, and your own Sanpro technician will visit regularly to ensure that your waste is always stored, transported and disposed of properly and that you remain compliant.
Keep your Business Safe with Sanpro
Proper disposal of medical waste makes your practice safe for everyone, from your customers to your support staff and technicians. When you fully comply with OSHA, EPA and DOT regulations, you get the freedom to focus on growing your business and providing the best possible service to your customers.
Get Affordable, Reliable Pharmacy Medical Waste Disposal
It takes just one phone call to get the freedom that comes from knowing your medical waste disposal needs are covered. Our scalable and affordable solutions grow as you do and offer you the best in service and convenience, whether you have a single location or are growing your brand.  Contact us today to get peace of mind about your medical waste disposal and to focus your energy where it belongs – on serving your customers and growing your business.