Save Big on Medical Waste Disposal.
We Provide Pick Ups and More!
[icon_feature icon="map3″ icon_style="none" icon_color="#00a5ce" heading="Nationwide Service"]Sanpro serves a wide variety of
medical and commercial facilities
across the country providing top notch medical waste disposal solutions.[/icon_feature]
[icon_feature icon="others-ribbon" icon_style="none" icon_color="#ce3f00″ heading="Award Winning Support"]Sanpro's dedication to customer
support means saying goodbye
to slow response times.[/icon_feature]
[icon_feature icon="others-line-lightbulb" icon_style="none" icon_color="#0f7f4a" heading="Complete Medical Waste Disposal Compliance"]Avoid the risk of OSHA fines
by working with a qualified
partner like Sanpro.[/icon_feature]
WHY OVERPAY?
Great rates for pickup, treatment, disposal, compliance certification training and all medical waste disposal – including biohazard and sharps disposal.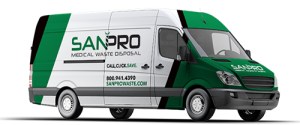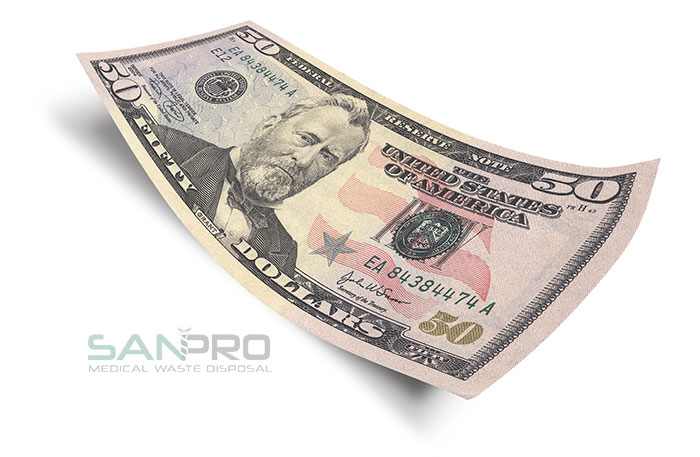 Take the Sanpro $50 Challenge.
Share your current medical waste services bill with Sanpro and if we can't beat it, we will send you a $50 VISA gift card. Most quotes are returned same day during normal business hours. Ready?

Hundreds of 5-Star Customer Reviews…
[blockquote source="Dr. Miller - Los Angeles, CA"]We Switched to Sanpro Medical Waste because the customer service from our previous provider was incredibly frustrating. To say it was a night and day difference is an understatement. After 1 year with Sanpro we have not had a single unexpected charge or request that was not resolved within a business day. We use them for our 3 surgery centers in the greater Los Angeles area.[/blockquote][blockquote source="David C. - Scottsdale, AZ"]We have been very pleased with the services offered by Sanpro. We represent a group of 42 individually owned clinics in three states (California, Arizona, New Mexico – not a single issue has come up. A success by my definition.[/blockquote]
[blockquote source="Monica B. - Fort Worth, TX"]Savings. Sanpro was able to drastically reduce our waste management bill (more than 20%) with no loss of capacity, frequency or customer service. Personally, I feel a great relief each month knowing we are no longer overpaying thanks to Sanpro.[/blockquote][blockquote source="Miriam G. - Philadelphia, PA"]We contacted Sanpro and asked them if they could address the needs of our dental office, which has a significant adjustment for seasonal volume. Our previous provider would hit us with steep fees during the busy months. With Sanpro we now have level, consistent pricing… thank you Sanpro![/blockquote]
Medical Waste Disposal Services
Medical waste is unique from generic solid waste in that it has the potential to harm or infect through exposure to diseases, viruses and other harmful organic material. Typically thought of as needles (sharps), medical waste includes all materials used in the diagnosis and treatment performed on both humans and animals. Sanpro offers medical waste solutions for companies and industries of virtually every size and shape.
[portfolio_grid limit="6″ orderby="rand" style="none"]
Professional waste management services.