Non Medical Businesses
Medical Waste Disposal for Non-Medical Businesses

Quick-Quote
or call Sanpro direct 800-941-4390
.
You may never offer medical services or deal with a live patient, but if you're in one of the many non-medical industries that generate medical waste, you still must comply with disposal regulations outlined by the Federal government and any state or local authorities. From tattoo artist businesses to funeral homes, veterinary clinics and even prisons, if you are dealing with bodily fluids or generating hazardous materials you are bound to the current regulations for disposal. The following items requires specialized storage, collection and disposal, regardless of your actual industry or business.
Infectious agents, cultures and culture medium
Organic tissues from labs
Chemical solutions
Potentially hazardous pharmaceuticals
Consumer returns and expired medications
Medications that pose a hazard because of flammability, combustibility or toxicity
Blood products
Solid waste including contaminated gloves, towels and pipettes
Liquid waste, including mediums, blood and bodily fluids
Sharps waste including needles scalpels, slides and syringes
Pathological waste
Teeth, old crowns and amalgam
X-ray film and chemicals
Disinfectants
Miscellaneous medical or hazardous waste not otherwise specified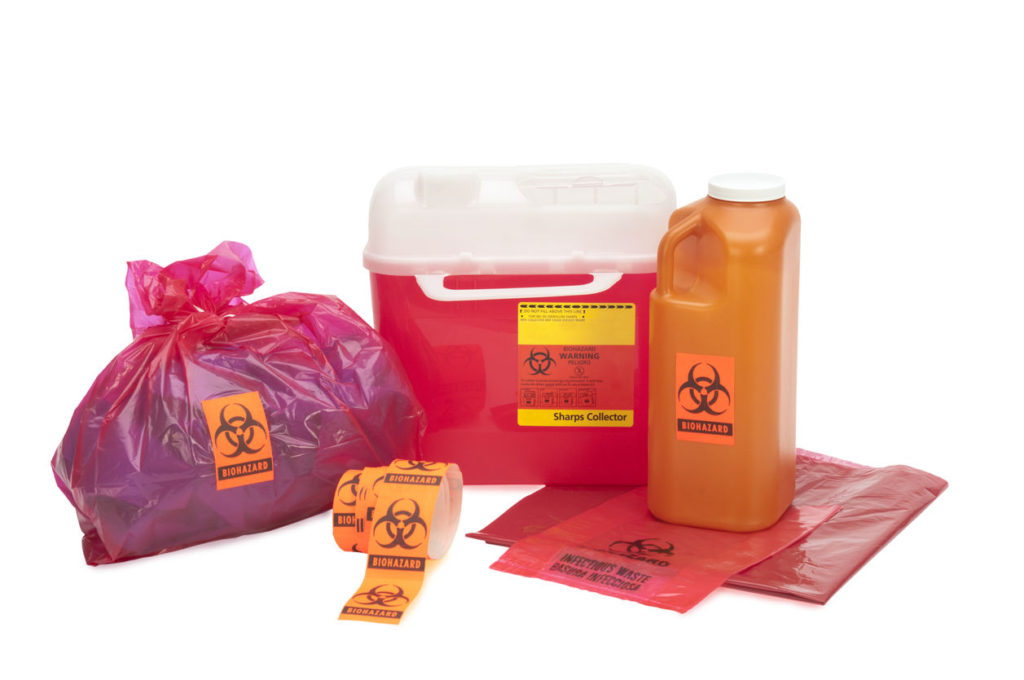 Nursing Home Medical Waste Disposal
IN addition to waste from actual medical care, a nursing home creates plenty of soiled pieces that need to be properly disposed of. You can't just include items that are soiled or soaked with blood or urine in your regular trash; it poses a significant health risk to others. You can be sure your facility remains compliant with all regulations and that you are acting responsibly by creating a comprehensive plan for your medical waste.
Whether you have a single facility or multiple locations, Sanpro can help mitigate your risk by ensuring you are in full compliance with a shifting and evolving set of regulations and that you can do so in an affordable way. When your medical waste needs are handled, you're freed up to do what you do best, caring for and improving the lives of your residents.
Click here for a quote on handling medical waste for your elder care facility
Medical Waste Disposal Compliance for Nursing Home Facilities
Since your facility generates both hazardous byproducts and medical waste, you must fully comply with rules created by the  Environmental Protection Agency (EPA), OSHA, Department of Transportation (DOT) and Joint Commission (TJC) when it comes to disposal. Failing to do so is costly – from the fees and fines imposed by these groups to the bad publicity that can result if you are found to be improperly handling waste at your facility.
Sanpro clients enjoy the peace of mind that comes from knowing their medical waste needs are fully covered and that they are always compliant. We understand that you need to be able to manage onerous Federal, state and even local rules and keep track of the latest changes and revisions to waste disposal policy and regulation. Our affordable, scalable solutions give you the freedom to focus on your business and the peace of mind that comes from knowing your needs are fully met.
Customized Medical Waste Disposal Service for the Nursing Home Industry
Our comprehensive, all in one solutions are fully scalable, so you can use just what you need now, but easily grow in the future. With a rapidly expanding industry, you need solutions that can grow as you do. Our clients enjoy not only our innovative containers and systems for collection, but regular visits from trained professional medical waste technicians who remove, transport and dispose of the waste, worry free.
We also know how important safety is for your residents and your team. Our innovative approach to employee awareness and training ensures that your entire team is compliant and fully understands the medical waste process, leaving you free to do what you do best – focus on your residents and their care.
Click here for a quote on handling medical waste for your nursing home facility
Affordability and reliability are the hallmarks of the Sanpro experience; our goal is to make waste disposal something you never have to worry about. From the start, we provide everything you need to easily comply with regulations, including innovative collection bins and your own dedicated technician. We're dedicated to not only meeting your needs, but making our service affordable as well.
Click here for a quote on affordable nursing home medical waste disposal
Make your Elder Care Facility Safe with Sanpro
From you residents to your visitors and staff, proper disposal of medical waste makes your facility safe for everyone. Fully complying with OSHA, EPA and DOT regulations gives you unsurpassed peace of mind and the freedom to focus on growing your business and providing the best possible care for your residents and their families.
Get Affordable, Reliable Nursing Home Waste Disposal
You're just a click away from peace of mind and unsurpassed convenience. Our scalable and affordable solutions can be fully customized to perfectly match your needs today and in the future.   Contact us today to get peace of mind about your nursing home medical waste disposal and to begin focusing your energy where it belongs – on your residents and your business.