You may never see a patient, but if you manufacture, package, develop or otherwise work with healthcare supplies or technology you likely generate medical waste. Like any other business, you must deal with this waste in a way that complies with all Federal, state and local guidelines. Regulatory agencies are becoming increasingly interested in the waste generated during the manufacturing and development process, so failing to comply could be a costly error. The actual waste you generate depends on your industry and business, but all the following items are considered medical or hazardous waste.
Medical treatment waste, including gloves, masks and robes
Solid waste, including any item contaminated with bodily fluids or material
Liquid waste, including blood and bodily fluids
Sharps waste, including needles, scalpels, syringes, slides or broken tubes and ampules
Drugs and chemical solutions
Disinfectants
Medications and pharmaceuticals that could be flammable, corrosive, reactive or toxic
Ingredients that could be flammable, corrosive, reactive or toxic
Miscellaneous medical or hazardous waste not otherwise specified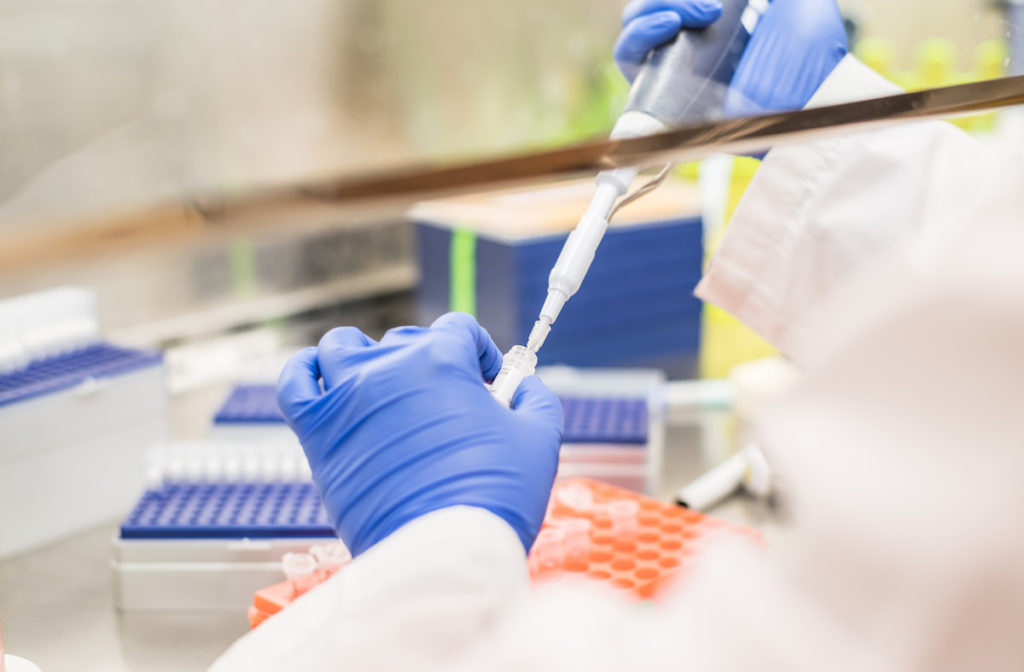 Technology Firm Medical Waste Disposal
Whether you have a single facility or multiple locations, Sanpro can help mitigate your risk by ensuring you fully comply with a shifting and evolving set of regulations and that you can dispose of waste in an affordable way. We know you don't produce the same amount of waste as a hospital or other facility and can create a custom plan designed to meet your specific needs. We also help you comply with OSHA and other standards by offering your team training materials and opportunities that allow them to handle waste and hazardous materials properly.
Click here for a quote on handling medical waste for your business
Medical Waste Disposal Compliance for Technology Firms
Since your facility generates both hazardous byproducts and potential medical waste, you must fully comply with rules created by the  Environmental Protection Agency (EPA), OSHA, Department of Transportation (DOT) and Joint Commission (TJC) when it comes to storing and disposing of these items. From the fees and fines imposed by these government agencies to the bad publicity that can result from an injury, violating any of these regulations is a costly error.
Customized Medical Waste Disposal Service for the Manufacturing Industry
We created our comprehensive, all in one solutions with scalability in mind, allowing you to start small, but grow when you need to. Our clients have unsurpassed peace of mind when it comes to medical and hazardous waste; they know they are always fully compliant with all regulations.
At Sanpro, we know how important safety is for your team. Our innovative approach to employee awareness and training ensures that everyone fully understands the medical waste process, leaving you free to do what you do best – focus on innovating and growing your business.
Click here for a quote on handling medical waste for your facility
Affordability and reliability are the hallmarks of the Sanpro experience; our goal is to make waste disposal something you never have to worry about. From the start, we provide everything you need to easily comply with regulations, including innovative collection bins and your own dedicated technician. We're committed to not only meeting your needs, but making our service affordable as well.
Get Affordable, Reliable Technology Business Waste Disposal
It's easier than ever to get peace of mind and unsurpassed convenience when it comes to medical and hazardous waste disposal – just contact us to get started. Our scalable and cost-effective solutions can be fully customized to perfectly match your needs both today and in the future. You're one click or phone call away from ensuring your needs are met and that your business runs more efficiency and effectively than ever before.