September 11, 2023

Comment: 0
Best Practices for Nursing Homes Disposing Medical Waste
What are the best medical waste disposal practices for nursing homes or assisted living facilities? In this article, we'll be able to guide you through the essential steps in developing a comprehensive medical waste disposal plan tailored to the unique needs of nursing facilities. There are best practices your facility will need to follow to ensure proper disposal of medical waste. Our expertise ensures you have a guide you can lean on to meet regulatory requirements and maintain a safe and hygienic environment for residents and staff.
Medical Waste Disposal for nursing homes
As a nursing home and assisted living facility, you are vital in providing care to elderly residents. Additionally, your institution needs a specialized medical waste disposal strategy and a targeted approach focusing on environmental responsibility, public health and regulatory compliance.
How to dispose different types of medical waste for Nursing homes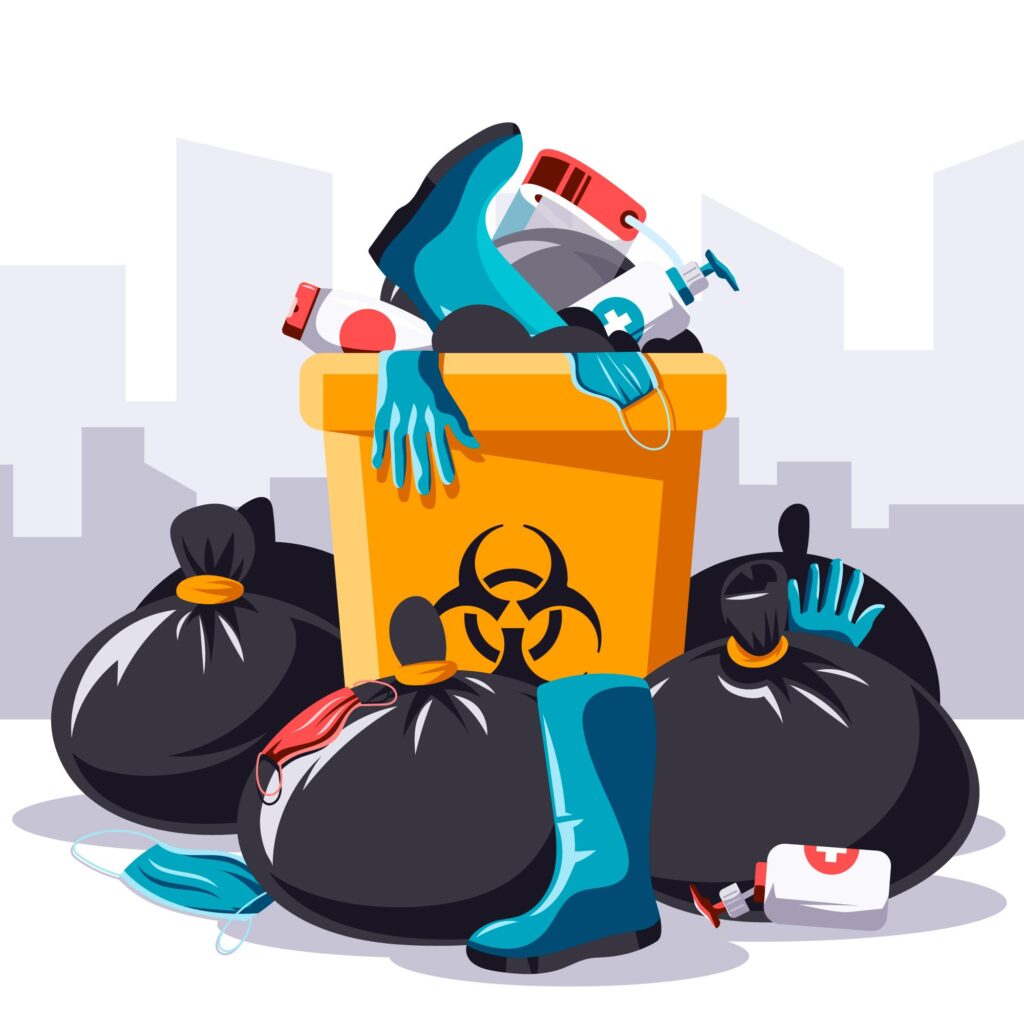 Any contaminated item that could puncture the skin should be disposed of in a puncture-proof sharps container. Applicable items may include syringes, needles, scalpels, glass vials, etc. Designed to prevent punctures, leaks and overfilling, these containers can reduce the risk of needlestick injury, which can lead to exposure to bloodborne pathogens.
Biomedical Waste – Non-anatomical (Yellow Bags) ​
Only clinical and infectious medical waste consisting of trace chemicals and pharmaceutical medications should be disposed of in yellow bags. Placental waste, home garbage, non-infectious waste, and pathological waste should not be disposed of in yellow clinical waste bags.
After a bag is full, staff should ensure that the bag is tied securely. Do not overfill yellow bags which can make them too heavy and can lead to possible tears or breaking. Wet or leaking containers will not be accepted by waste management providers.
Personal Protective Equipment
Gowns, gloves, masks, and other personal protective equipment (PPE) used during inpatient care must be disposed of as general or biomedical waste, depending on whether they are contaminated with blood or potentially infectious materials (OPIM), which may contain pathogens dangerous to humans and the environment. Organizations should clearly define PPE waste classification parameters to ensure proper disposal of used PPE.
This type of medical waste can be defined as any unneeded, unused or expired drug. Depending on its chemical qualities and dangers, it might be categorized as hazardous or non-hazardous. Inadequate medication disposal can lead to harmful substances seeping into the environment and damaging groundwater, drinking water, plant life, and other resources.
Hazardous pharmaceuticals have different waste requirements due to the increased risk to humans and the environment, whereas non-hazardous pharmaceutical waste should be separated from other biomedical waste into a container specifically designated for non-hazardous pharmaceutical waste and intended for incineration.
Partner with a certified medical waste provider
The most important step to take after ensuring that you're properly storing and disposing of your nursing home waste is to work with a certified medical waste disposal provider.
Sanpro medical waste is a nationally owned and operated company that provides waste disposal services to nursing homes and many other medical facilities throughout the United States. Our team is composed of highly-trained professionals who will ensure that your waste is removed and disposed of according to state and federal guidelines. Contact us to learn more.